GBS from H1N1 & Seasonal Flu Shots
Woman claims swine-flu shot caused paralysis
CDC: 10 reports of Guillain-Barre Syndrome following H1N1 vaccine in last 2 months
Posted: December 11, 2009 12:10 am Eastern
By Chelsea Schilling © 2009 WorldNetDaily
A Tennessee woman is learning to walk again after she came down with a deadly nerve disease only eight days after receiving the swine-flu vaccine.
Clarksville resident Suzanne Hogan is recovering at Vanderbilt University Medical Center's Stallworth Rehabilitation Center from Guillain-Barre Syndrome, or GBS, an illness she believes is associated with the H1N1 vaccination.
GBS attacks the lining of the nerves, causing paralysis and inability to breathe, and can be fatal. Symptoms may include "pins and needles" sensations in fingers and toes; weakness or tingling in legs and upper body; inability to walk; difficulty with eye movement, facial movement, speaking, chewing or swallowing; severe lower back pain; difficulty with bladder control or intestinal functions; very slow heart rate or low blood pressure; difficulty breathing; choking on saliva and even complete paralysis of legs, arms and breathing muscles over the course of a few hours.
Hogan was hospitalized Nov. 14 when she lost function of her legs and was unable to walk without assistance. She is now learning how to master motor skills.
Suzanne's husband, Shannon, told the Leaf-Chronicle no one else in his family will take the H1N1 vaccine.
"They expect Suzanne to have a 100 percent recovery. We just want people to know the risk", he said. "If you've ever watched anyone go through Guillain-Barre, you would rather go through the flu".
Other GBS cases after H1N1 vaccination
In November, a 14-year-old Virginia boy also came down with GBS only hours after receiving the H1N1 vaccine. He became weak and struggled to walk.
Jordan McFarland, a high school athlete from Alexandria, left the hospital in a wheelchair after he developed severe headaches, muscle spasms and weakness in his legs following the shot, MSNBC reported. He now requires assistance of a walker and extensive physical therapy.
"The doctor said I'll recover fully, but it's going to take some time", he said.
Also during November, a woman in France was diagnosed with GBS only six days after receiving the H1N1 vaccine.
Another unnamed adult in Canada was diagnosed with GBS only three weeks after receiving the H1N1 flu shot in November.
Likewise, a 16-year-old boy experienced dizziness right after his Nov. 16 shot and contracted GBS. He was admitted to a hospital when his arms and legs became paralyzed, the Korea Herald reported.
More recently, a family in Albuquerque, N.M., claim the H1N1 vaccine may have been responsible for their 14-month-old daughter's nervous system disorder called ataxia.
"In that two-week period after [the shot], she just started gradually going down and going down, her father told KOAT-TV. "She would stand up and she would just collapse over".
The girl's parents say a neurologist told them the condition may have been an adverse effect of the H1N1 vaccine.
GBS link to H1N1?
Use of a similar swine flu vaccine in the United States in 1976 resulted in 25 people suffering from severe paralysis and dying from respiratory failure after being injected with the vaccine - more than the number of lives claimed from the virus itself.
In 1976, health officials found nearly 500 cases of GBS, and the vaccine was withdrawn 10 weeks after the link with GBS was suspected. Following the 1976 vaccination against swine flu in the U.S., a retrospective study found a likely eight-fold increase in the incidence of GBS. Although the vaccine was withdrawn when the connection was made, the U.S. government paid millions to settle suits by those injured or killed.
As WND reported in August this year, two letters from the U.K's Health Protection Agency to top neurologists warned doctors to watch for an increase in cases of the fatal disorder.
"I would not have the swine-flu jab because of the GBS risk", a senior neurologist told London's Mail.
The HPA letters noted the lack of testing on the new vaccine and called on neurologists to monitor and report every incident of GBS so the product could be withdrawn if problems were identified.
CDC: GBS a 'rare' reaction to vaccines
However, the U.S. Centers for Disease Control and Prevention estimates that between 3,000 to 6,000 Americans develop GBS each year - regardless of whether they receive a vaccination.
"On very rare occasions, they may develop GBS in the days or weeks following receiving a vaccination", the CDC notes.
The CDC's Vaccine Adverse Event Reporting System, or VAERS, indicates the CDC received 10 reports of GBS specifically following H1N1 vaccines in October and November. Two of the occurrences took place in October and eight in November -just as H1N1 shots were becoming more accessible to the public.
But the GBS occurrence rate is only a fraction of the rate reported following seasonal flu shots. An additional 24 GBS cases were reported in October and 24 more in November following administration of seasonal flu shots and nasal mists.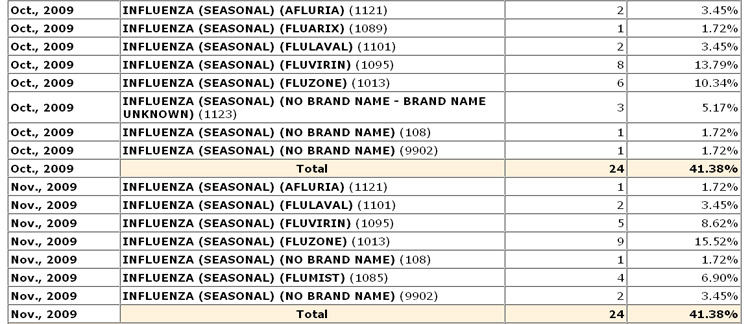 48 cases of Guillian-Barre Syndrome reported in October and November following seasonal flu vaccinations (chart: CDC)
Among those 10 who reported GBS symptoms following H1N1 vaccination, one was a life-threatening event, one involved permanently disability, seven were hospitalized, eight went to an emergency room and four had less serious reactions.
Six of the 10 patients reported experiencing GBS onset within one day of receiving the H1N1 shot. One reported GBS symptom onset within two days, while three people experienced onset after 10 days.


Guillain-Barre Syndrome cases reported following H1N1 vaccinations (Chart: CDC)
A CDC summary of 2009 monovalent (immunizes against a single antigen or single microorganism) H1N1 vaccine data reveals the following:
As of Nov. 24, the VAERS system received 3,783 adverse event reports following 2009 monovalent H1N1 vaccination.
Of the 3,783 reports, 204 were reports that involved what would be considered serious health events (defined as life threatening or resulting in death, major disability, abnormal conditions at birth, hospitalization or extension of an existing hospitalization.) Nerve and muscle conditions, pneumonia, allergic reactions and gastrointestinal disorders are among the problems reported.
Among the 204 reports of serious health events, there were 13 reports of death. The CDC contends that these cases are under review, and preliminary findings "do not indicate a common cause or pattern to suggest these deaths were associated with the vaccine".
The CDC warns that its system cannot determine cause and effect and that a report of an adverse event doesn't mean it was caused by a vaccine - only that the issue occurred sometime after administration of the vaccine.
Some H1N1 vaccine inserts located at the U.S. Department of Health and Human Services website mention GBS as a possible side effect.
Dr. Keiji Fukuda, special adviser on pandemic influenza to the director general of the World Health Organization, recently told reporters the WHO has been monitoring safety and regulatory agencies of countries using the H1N1 vaccine and that there are no recorded side effects, such as paralysis.
"I think there's a confusion between the concern people are raising and what is really factual", he said, "and the fact is that a lot of people have been vaccinated and have been monitored very carefully and have not detected any Guillain-Barre Syndrome".
He continued, "GBS typically appears four to six weeks after vaccination and the peak period probably between six to eight weeks ... [But] with the current vaccine, we have not seen it and the level of watchfulness is very high".
The WHO website states, "A small number of deaths have occurred in people who have been vaccinated. All such deaths, reported to WHO, have been promptly investigated. Although some investigations are ongoing, results of completed investigations reported to WHO have ruled out a direct link to pandemic vaccine as the cause of death".